Our tips for choosing your flight over the Grand Canyon
If discovering the Grand Canyon on foot, by crossing the South or North shore, is a must when visiting the American West, many people ask themselves the following question: "Is it also worthwhile to fly over the Grand Canyon ?".
To this question, anyone who has already completed this unique experience will answer you: "Go ahead, go for it, it's great !"
Flying over the Grand Canyon by helicopter or plane will give you an immense pleasure, an intense moment of emotion, a unique opportunity to admire the imposing cliffs of the Grand Canyon and the meanders of Colorado in a different way and to appreciate the vastness of this wonder of Nature.
Are you convinced ? All that remains is to choose the tour that suits you best : company, duration, departure point, options, prices... We explain everything to you!
Where can we fly over the Grand Canyon from ?
A flight over the Grand Canyon can be made from 3 sites.
Tusayan (Grand Canyon South Rim), Arizona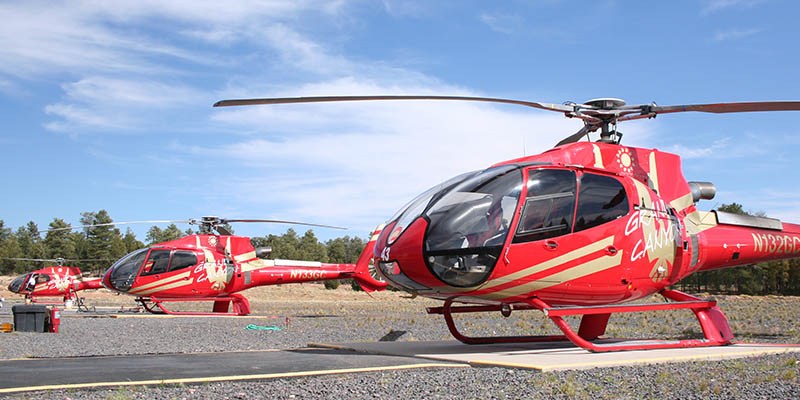 The small town of Tusayan, located a few miles south of Grand Canyon Village and the south shore of the Grand Canyon, has an airport and heliport from which you can board for helicopter and airplane flights.
If you want to fully enjoy the Grand Canyon's most breathtaking scenery, the tours from Grand Canyon South Rim are a must, as they fly over the most spectacular, widest (11 miles) and deep (5250 feet) area of the Grand Canyon, including the Dragon Corridor. Moreover, it is from Tusayan that overflight fares are most attractive !
Las Vegas, Nevada
If during your roadtrip, you don't have the opportunity to pass through Grand Canyon National Park, or you don't have enough time to do a flyover, you can make up for it during your stay in Las Vegas.
Companies offer helicopter and air travel from Las Vegas International Airport, or Boulder City Airport and Henderson Airport, both fairly close to Las Vegas.
These overflights explore the western part of the Grand Canyon, which is a little less impressive than the central part, and also allow you to admire Hoover Dam (a huge dam on the Colorado River) and Lake Mead. Some airplane tours also allow you to reach Grand Canyon West or Grand Canyon South Rim, for a ground visit, and even land on the shores of Colorado, at the very bottom of the Grand Canyon, in the Grand Canyon West area.
Grand Canyon West, Arizona
Hualapai Indian Reserve, located halfway between Las Vegas and Grand Canyon Village, known for hosting the famous Skywalk, a glass bridge over the Grand Canyon, has a small airport from which to fly over.
This is not the simplest option (Grand Canyon West is quite isolated) nor the most economical (you will have to pay for the entrance to the Indian reserve), but it should be noted that this is the only area where helicopters are allowed to land at the bottom of the canyon...
Flight by helicopter or plane ?
Are you hesitating between a helicopter flight over the Grand Canyon or a flight by plane ? Here are some objective elements to help you in your choice.
Helicopter flight over the Grand Canyon
The helicopter is the most popular option for discovering the Grand Canyon.
Each aircraft accommodates one pilot and 6 or 7 passengers, depending on the interior configurations.
The helicopter allows you to fly over the heart of the Grand Canyon, completely immersed in the canyon, passing relatively close to the walls. You can admire the many details of the cliffs and ravines.
Last but not least, for many people, flying over the Grand Canyon by helicopter is an opportunity to kill two birds with one stone: discover the Grand Canyon by air and get their first helicopter ride.
"Classic" or "luxury" helicopter ?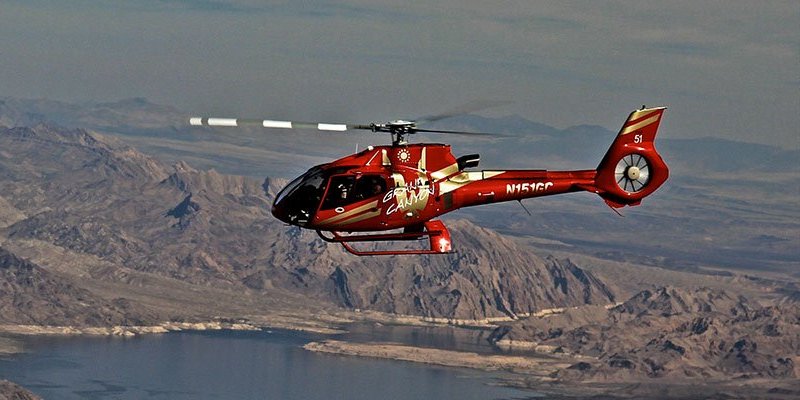 Papillon offers several tours, some of which are carried out by Bell 206 or 407 helicopters, others by Airbus H130 helicopters.
What are the differences between these two types of helicopters ?
The Bell 206 or 407 are very good helicopters, with all the necessary comfort and which will allow you to fully enjoy the show.
The Airbus H130 helicopters (also known as Eurocopter EC130 or Eco-Star EC130) are high-end helicopters, specially designed for commercial and tourism activities, with ideal features to enjoy the landscapes that will be available to you :
23% more space in the cabin,
all seats face forward, and are set in "theatre" mode, so that all passengers can enjoy the show,
the cabin has large panoramic windows, so as not to miss anything and to be able to take the most beautiful pictures,
equipped with a "Fenestron" rear rotor, limiting noise and vibrations.
ll these advantages have of course a disadvantage : the H130 tours cost 20 to 30% more expensive than the equivalent Bell tours...
If you choose a helicopter flight with Maverick or Grand Canyon Helicopters, you will automatically be placed in a luxury H130 helicopter.
Flights over Grand Canyon by plane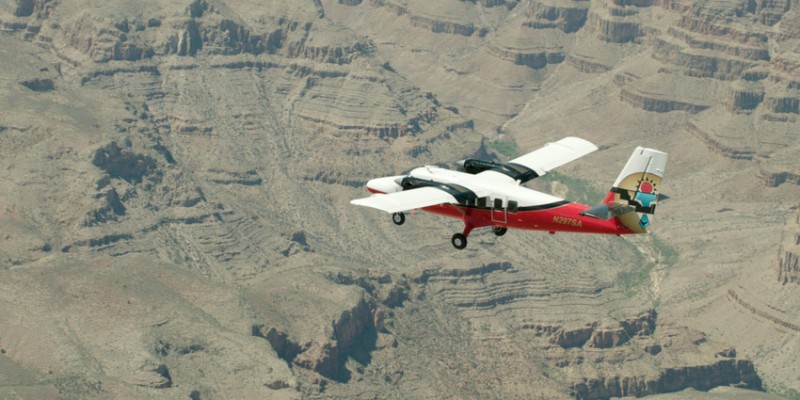 Airplane flights are available from Las Vegas and Tusayan.
Airplane tours are cheaper than helicopter tours, as you can take about 20 people in an aircraft, compared to 6 for the helicopter. Moreover, the time spent in the air is much longer.
The comfort is almost identical (comfortable seats, audioguides...), with even a slightly better stability in flight.
The flight is at a much higher altitude than with a helicopter, which is a double-edged sword : certainly, we have a better view of the vastness of the Grand Canyon, but we take less advantage of the details and we don't have the immersive aspect provided by the helicopter.
All these elements make air travel a little less popular with tourists.
Papillon or Maverick ?
Let's get something straight : Papillon and Maverick, and their subsidiaries, are very serious companies, offering quality services and paying great attention to customer satisfaction.
Safety is their top priority. Their staff is highly qualified and well trained.
They have the best pilots, each with thousands of hours of flight time.
Their entire fleet is composed of modern and regularly maintained aircraft.
Whether it is Papillon Helicopters, Grand Canyon Scenic Airlines, Grand Canyon Helicopters, Maverick Helicopters or Maverick Airlines, you have nothing to worry about and you can trust them.
While the activities offered by these two companies are extremely similar, Papillon is the company that offers the widest offer and the lowest prices on the market, without sacrificing quality, Maverickpositioning itself in a more upscale sector, with Premium and VIP services.
Note that these two companies also offer night flights over Las Vegas, which offer an unforgettable opportunity to be thrilled above the lights of Sin City.
n all cases, the rates posted by Papillon and Maverick do not include any hidden fees :
no administration fees,
no fuel surcharge,
shuttles/limousines are included in the services that require it (especially tours departing from Las Vegas),
no entry fee to Grand Canyon NP or Hualapai Reserve when this is the case.
Papillon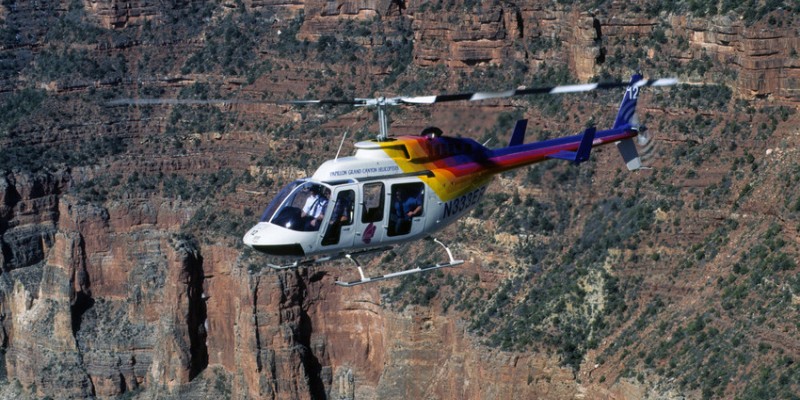 Papillon is the best-known and most reputable company, founded in 1965.
Each year, Papillon and its subsidiaries welcome more than 600,000 passengers to discover the Grand Canyon and Las Vegas by air.
Papillon groups 4 companies together :
Papillon Helicopters, which offers helicopter (Bell and H130) and airplane flights from Las Vegas, Grand Canyon West and Grand Canyon South Rim.
Grand Canyon Helicopters, which only offers high-end H130 helicopter flights from Las Vegas and Grand Canyon South Rim.
Grand Canyon Scenic Airlines, which only offers flights from Las Vegas, Grand Canyon West and Grand Canyon South Rim.
Grand Canyon Coaches, which only offers bus excursions from Las Vegas.
Papillon's main advantage is that it is unbeatable on prices. If you want to fly over the Grand Canyon without spending too much money, opt for Papillon, especially since the company regularly offers promotional offers and discounts.
Maverick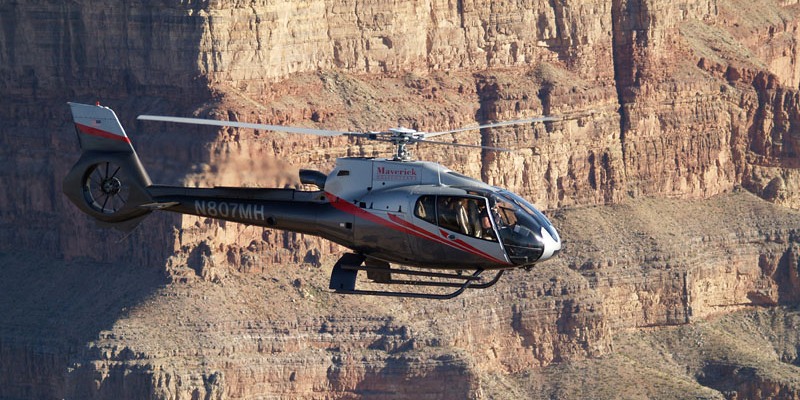 Maverick is a more recent company, founded in 1995, which carries 225,000 passengers per year.
The group's helicopter fleet is composed solely of high-end H130 aircraft.
The Maverick group has 2 entities :
Maverick Helicopters, which offers high-end H130 helicopter flights from Las Vegas, Grand Canyon West and Grand Canyon South Rim.
Maverick Airlines, which only offers flights by plane, from Las Vegas.
With a more upscale positioning, Maverick's prices are between 20 and 30% more expensive than those charged by Papillon. This delta is justified by VIP services (limousine, champagne...), customers who are taking care of themselves and the latest generation of very luxurious equipment.
Why booking online ?
If you decide to fly over with Papillon or Maverick during your stay in the American West, it is imperative to book it in advance on the Internet, for several reasons :
Make sure you have a place. The demand is high, and for the high season, the towers go like hotcakes. As flight plans are not extensible, it will often be impossible for you to book at the last minute, when you arrive on site.
Benefit from better rates by booking online (up to 50% cheaper than an on-site booking).
Benefit, in addition, from the promotional offers and discounts that companies regularly offer.
The booking process is very simple.
First choose your tour.
Then choose the date on which you wish to make your excursion and the number of people.
Please note that for the same tour, prices may vary according to the date (holidays, weekends...).
At Papillon, children between 2 and 11 years old benefit from a $20 discount compared to the adult rate.
Then select your flight time.
Early and daytime flights are generally cheaper. If you can, choose a flight in the morning or late afternoon to enjoy softer light and warmer colours.
Then indicate the name, first name and weight of each passenger.
At Papillon, for a helicopter flight, you can pay an extra fee ($50) to make sure you are placed in the front seats. For an overflight by plane, you can pay an extra fee ($15) to make sure you are placed next to a window.
If your tour departs from Las Vegas, you will also need to indicate which hotel you are staying at in order to plan the shuttle or limousine pick-up.
Then proceed to payment by credit card, after having indicated an email and a phone number.
Note that Papillon offers the possibility to pay in euros, which avoids exchange fees charged by your bank.
Once your reservation has been made, you will receive a confirmation of your reservation within 24 hours, by email. Print and take this confirmation with you.
On the spot
Cancellation/modification
Important note concerning Papillon: you must absolutely confirm your excursion by telephone with the reservation centre at least 24 hours in advance, at +1(702)638-3296. When you call, make sure you have your reservation number.
In case of a change of program or if you cannot fly over, you can modify or cancel your tour without penalty up to 24 hours before departure at Papillon, and up to 48 hours at Maverick.
In case of cancellation, you will be fully refunded.
Attention, with Papillon, "Super Saver" rates are not refundable.
If the weather is not there and prevents you from performing the planned service, you will be refunded in full, or placed on another time slot or another day if you can and wish.
Grand Canyon South Rim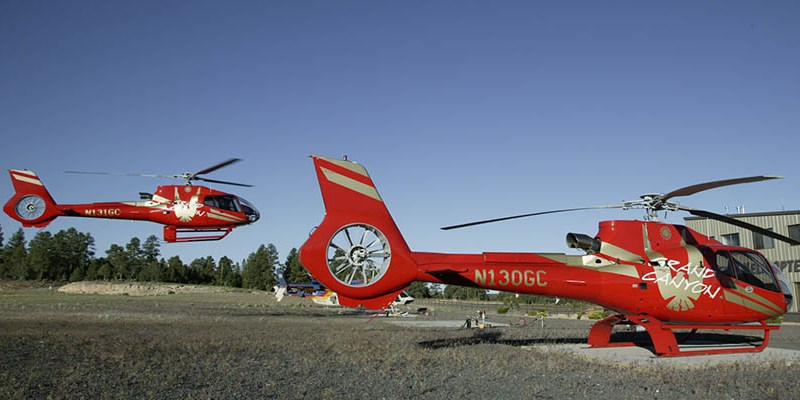 If you have booked an overflight from Tusayan (Grand Canyon Souh Rim), arrive at least 30 minutes before your flight time at Grand Canyon National Park Airport, a few miles south of Grand Canyon Village (Airport Road, Grand Canyon Village, AZ 86023 - 35.964995, -112.131169).
Each of the companies has its own terminal. Look at what is indicated on the voucher you received by email to know the exact address you should go to :
Las Vegas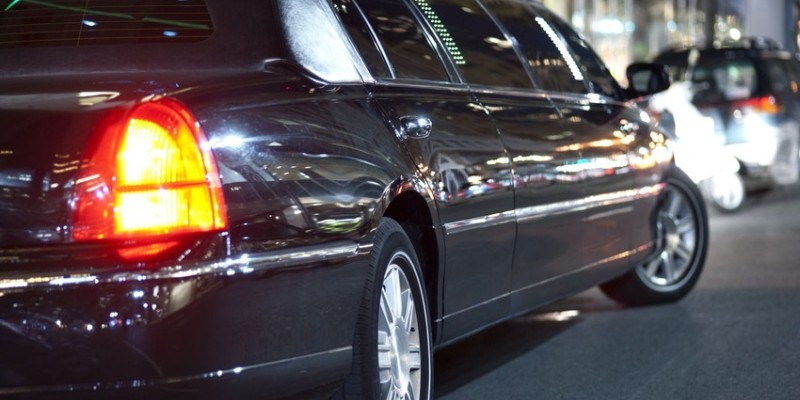 If you have booked an overflight from Las Vegas, most tours include a shuttle service (van, bus or limousine), which will pick you up at a specific time (indicated on your voucher) at your hotel and take you to the airport where you depart on your overflight. Depending on the tours and companies, it may be :
McCarran International Airport, Las Vegas, for Grand Canyon Helicopters and Maverick Helicopters.
from Henderson Executive Airport, Henderson, for Maverick Helicopters and Maverick Airlines.
from Boulder City Municipal Airport, Boulder City, for Papillon Helicopters and Grand Canyon Scenic Airlines.
Check-in et flight
When you arrive at the terminal, go to the reception desk to check in. Have your reservation number ready. Each passenger must also present their passport.
During the process, you will need to get on a scale to record your weight. This data is important for the company in order to distribute the "loads" correctly in the helicopter. In general, the lightest people are more likely to be placed in front.
If you want to do the job, with Papillon, you can pay an extra fee when you book to make sure you are sitting in the front seats.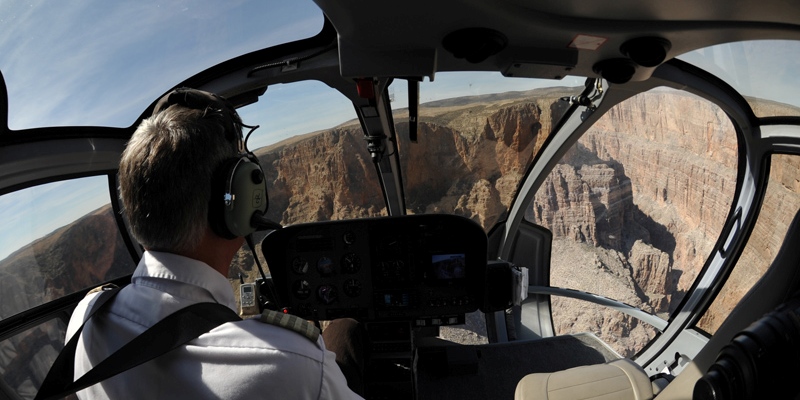 At hour H, your pilot will arrive, make the call to pick up all his passengers, then take you to the tarmac at the foot of your aircraft.
A souvenir photo, in front of the aircraft and with the pilot, will be taken before takeoff. You can buy this picture when you come back.
After some safety instructions (a life jacket will be provided), the pilot will place each passenger.
Then it will be the time of takeoff and the beginning of your wonderful journey through the air.
A noise cancelling headset will allow you to listen to the pilot's explanations, as well as to listen to an audiotour in your language.
The tours that take place throughout the day include a meal.
Tours that include a ground tour of the Grand Canyon (at Grand Canyon South Rim or Grand Canyon West) include access prices (entry to the National Park or Hualapai Indian Reserve).
Items authorized in the cabin
Camera, camcorder, smartphone... in short, everything that allows you to capture your flight is allowed in the cabin during your tour.
Also bring a cap, sunglasses and sunscreen.
Selfy poles are not allowed.
Updated on 06 February 2022